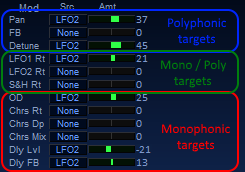 To understand a few things about the mod section that might not seem obvious at first glance, one has to understand the difference between synthesis parameters & concepts that are polyphonic and ones that are monophonic.
Pan is a good example of a polyphonic parameter. Each voice can be placed anywhere in the stereo spectrum independently of any other voice. Thus panning is a concept that makes sense with regards to polyphony, and Pan is a polyphonic parameter - making it a polyphonic mod target. The same goes for Feedback and Unison Detune. There's nothing stopping each voice from having its own values for Feedback amount and Detune amount separate from every other voice, if the synthesis engine supports that, and this one does; therefore, these parameters have likewise been made polyphonic in this synth. As a result, these mod targets can be modulated by all of the modulation sources - LFO1, LFO2, S&H, ModEnv, Key, Velocity, and ModWheel.
On the other hand, it doesn't make sense for parameters pertaining to the global effects to be able to have different values on a voice-by-voice basis, and in the case of this synth, they cannot. The output of all the voices is summed together and then passed through the Delay and Overdrive effects. There is no concept of voices and polyphony by the time we get a summed signal to the effects section. This would be true for any parameters pertaining to parts of the synth that are inherently monophonic, meaning they're not in the context of individual voices. Thus these parameters are monophonic mod targets, which cannot be modulated by polyphonic mod sources. The polyphonic mod sources are Key and Velocity. So Overdrive Level, Delay Level, and Delay Feedback can be modulated by a mono LFO, mono S&H, mono ModEnv, or the ModWheel, but can't be modulated by Key or Velocity.
One of the implications of this is that if the voices are using the LFOs, S&H, or ModEnv in polyphonic mode, and there's a monophonic mod target using either of those complex mod sources for its modulation, the monophonic mod source will be run as well, in addition to the polyphonic mod sources that are run for the voices.
What about the other mod targets? LFO1 Rate, LFO2 Rate, and S&H Rate are both monophonic and polyphonic mod targets. The mod sources themselves come in both monophonic and polyphonic variants. An LFO can either be a Voice's very own LFO (polyphonic), or it can be the single shared LFO (monophonic) that is globally usable by polyphonic and monophonic components alike. A polyphonic mod source's Rate parameter is thus a polyphonic mod target, and it can be modulated by any of our modulation sources. But what about the monophonic mod sources' Rate parameters then? Can they be modulated by polyphonic mod sources? That wouldn't make sense, would it? And to that I say, those are very good questions! See, this is one of the things that get complicated when you get into the guts of synthesis modulation and UI development and usability and try to find the balance between the implementation of complicated principles and the presentation of those principles which should make sense and not need a bunch of explanation or provide the appearance of inconsistency or of revealing too much complexity. And in this case, there really isn't a great way to deal with it.
I could've listed the LFO1, LFO2, and S&H Rate mod target parameters twice, once for the polyphonic variants, with inclusion of Key and Velocity for the sources, and again for the monophonic variants, this time without the inclusion of the Key and Velocity sources, but that would've been incredibly ugly, awkward, and people wouldn't easily understand why it was that way. That would be a terrible design choice. On the other hand, I could've just used the one entry for those targets, included the Key and Velocity mod sources, but ignored the selection of those mod source inputs when calculating the Rate of the monophonic LFOs or S&H or ModEnv, but that's not a great solution either. People would wonder why the Rate of the Overdrive Level's LFO1-source modulation wasn't any different between the lowest note and the highest note, even though they had LFO1's Rate parameter getting affected by Key at 100%, and that's no good either. In the end, the only solution is to explain how this stuff works and get people to understand what's happening at an implementation level, so here you go. So what does happen to a mono LFO's Rate when you modulate it with Key or Velocity? It uses the Key value or Velocity value of the most recently played note. Tada! Weird, but not horrible. It may even work and make sense in some patches. But for the most part, expect the Rate modulation by Key or Velocity to make more musical sense with polyphonic LFOs than with monophonic LFOs.